Answer
Ataxia-telangiectasia (A-T) is an autosomal recessive, complex, multisystem disorder characterized by progressive neurologic impairment, cerebellar ataxia, variable immunodeficiency with susceptibility to sinopulmonary infections, impaired organ maturation, x-ray hypersensitivity, ocular and cutaneous telangiectasia (see image below), and a predisposition to malignancy. The disease is heterogeneous, both clinically and genetically, as shown by the existence of 4 complementation groups (A, C, D, E). The responsible gene (ATM gene) has been mapped to band 11q22-23. [1]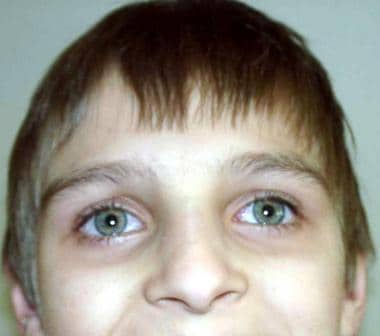 Face of a boy with ataxia-telangiectasia. Apparent ocular telangiectasia.
The clinical and immunological presentation of ataxia-telangiectasia may differ even within the same family, as described by Soresina et al. [2]
Syllaba and Henner first published descriptions of patients with ataxia-telangiectasia in 1926. [3] They observed progressive choreoathetosis and ocular telangiectasia in 3 members of a single family. A gap of some 15 years occurred before the next report in 1941 by Louis-Bar, who described progressive cerebellar ataxia and cutaneous telangiectasia in a Belgian child. [4] The syndrome subsequently received the name of Louis-Bar. Ataxia-telangiectasia was not described as a distinct clinical entity for another 16 years until Boder and Sedgwick [5] in 1957 and Biemond [6] in 1957, with the aid of autopsies, reported organ developmental abnormalities; neurologic manifestations; and a third major feature of the disease, recurrent sinopulmonary infection.
Ataxia-telangiectasia can best be classified, according to its major clinical and pathologic features, as a predominantly cerebellar form of spinocerebellar degeneration, which is transmitted as an autosomal recessive trait and evolves ultimately to include motor neuron disease, with spinal muscular atrophy and peripheral neuropathy.
Ataxia-telangiectasia can also be classified among the neurocutaneous syndromes, although not among the phakomatoses as originally proposed, because the vascular and cutaneous lesions of ataxia-telangiectasia are not congenital nevi but develop in the course of the disease as a progeric manifestation. Ataxia-telangiectasia should be considered among the immunodeficiency diseases, cancer-prone genetic disorders, chromosomal instability syndromes, disorders with abnormal radiosensitivity, syndromes with possible DNA-repair/processing defects, and (as is now evident) the progeroid syndromes.
Elevated immunoglobulin M (IgM) occurs in only 60% of patients, challenging this finding as a probable diagnosis criterion. [7]
Also see Ataxia-Telangiectasia in Ophthalmology.
---
Did this answer your question?
Additional feedback? (Optional)
Thank you for your feedback!