Answer
Granuloma gluteale infantum (GGI), previously known as vegetating potassium bromide toxic dermatitis or vegetating bromidism, is a rare skin disorder of controversial etiology characterized by oval, reddish purple granulomatous nodules on the gluteal surfaces and the groin areas of infants. Lesions can also be found in intertriginous areas (eg, neck, axilla). The long axis of most lesions runs parallel to the skin lines of cleavage or maximum skin tension. The lesions typically are self-limited.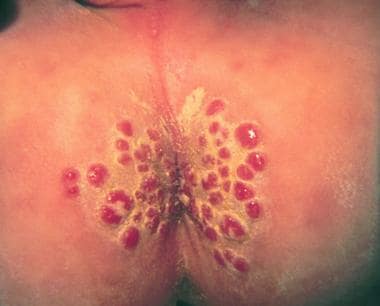 Photograph of a case of granuloma gluteale infantum.
A similar eruption may have been described in 1891, and, in 1962, as vegetating bromidism due to the application of bromide ointment. In 1971, Tappeiner and Pfleger, from Germany, first reported 6 cases of granuloma gluteale infantum. [1] In subsequent years, similar episodes were reported in other parts of Europe, Japan, and the United States.
Similar granulomas have been noted in adults confined to bed and women who overuse vaginal preparations such as Vagisil. These conditions are referred to as pseudoverrucous nodules of the vulva, granuloma gluteale adultorum, and diaper area granuloma of the aged. [2, 3] In contrast to granuloma gluteale infantum, the adult versions are observed only in genitocrural regions and not in intertriginous areas; nodules in the adult versions are often eroded, and they do not show an arrangement parallel to the skin lines. [4, 5]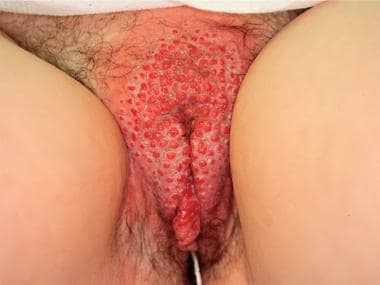 Photograph of a case of granuloma gluteale adultorum.
Advances in absorbent diaper technology using synthetic materials have significantly reduced diaper-associated inflammatory skin conditions in recent decades. Also see Pediatrics, Diaper Rash and Diaper Dermatitis.
---
Did this answer your question?
Additional feedback? (Optional)
Thank you for your feedback!