Answer
The diagnosis of aplasia cutis congenita (ACC) is made on the basis of physical findings indicative of an in utero disruption of skin development. Most lesions occur on the scalp lateral to the midline, but they may also occur on the face, trunk, or limbs, sometimes symmetrically.
The lesions are noninflammatory and well-demarcated. The appearance of the lesions varies, depending on when they occur during intrauterine development. Lesions that form early in gestation may heal before delivery and appear as an atrophic, membranous, parchmentlike or fibrotic alopecic scar, whereas less mature defects may present as an ulceration of variable depth. With only the epidermis and the upper dermis involved, minimal alopecic scarring may result, but deeper defects may extend through the dermis, subcutaneous tissue, and rarely periosteum, skull, or dura. Distorted hair growth around a scalp lesion, known as the hair collar sign, is commonly seen with membranous aplasia cutis and is a marker for underlying defects such as encephaloceles, meningoceles, and heterotopic brain tissue.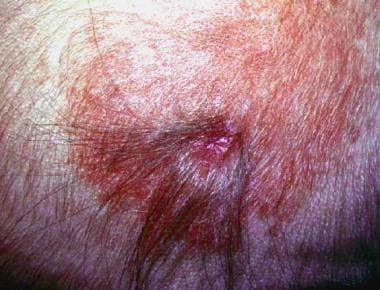 This area of healed aplasia cutis congenita is located in an area of nevus flammeus. Note the collarette of coarser hair at the margin of the defect.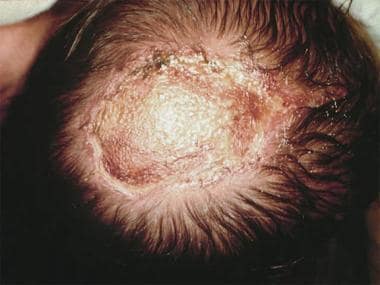 Extensive aplasia cutis congenita on the scalp, extending down to the skull.
---
Did this answer your question?
Additional feedback? (Optional)
Thank you for your feedback!