Answer
Unlike adults, children commonly present with facial and neck involvement. In very young children and infants, a widespread, eczematous eruption primarily on the trunk is common, as in the image below. In addition, infants may have 1- to 3-mm papules, vesicles, and pustules on the palms and soles.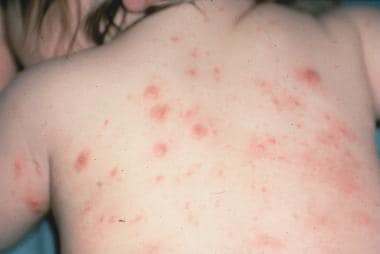 Widespread eruption on the back of an infant with scabies. Courtesy of Kenneth E. Greer, MD.
---
Did this answer your question?
Additional feedback? (Optional)
Thank you for your feedback!