Answer
Human scabies is an intensely pruritic skin infestation caused by the host-specific mite Sarcoptes scabiei hominis. Approximately 300 million cases of scabies (see the image below) are reported worldwide each year.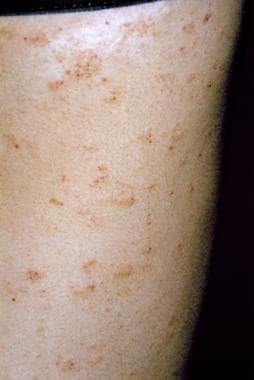 Scabies. Erythematous vesicles and papules are present on torso extremities, some with adjacent linear excoriations.
See When Bugs Feast: What's Causing that Itch?, a Critical Images slideshow, to help identify various skin reactions, recognize potential comorbidities, and select treatment options.
Also see the Back-to-School Illnesses: 15 Classroom Contagions slideshow to help identify conditions that may occur in young patients after they return to the classroom.
---
Did this answer your question?
Additional feedback? (Optional)
Thank you for your feedback!