Answer
Two distinct truncal patterns of seborrheic dermatitis can occasionally occur. An annular or geographic petaloid scaling is the most common. A rare pityriasiform variety can be seen on the trunk and the neck, with peripheral scaling around ovoid patches, mimicking pityriasis rosea. Note the image below.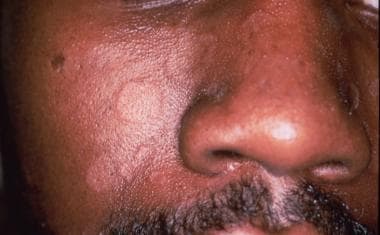 African Americans and persons from other darker-skinned races are susceptible to annular seborrheic dermatitis, also called petaloid seborrheic dermatitis or seborrhea petaloides. Sarcoidosis, secondary syphilis, and even discoid lupus may be in the differential in such cases. Courtesy of Jeffrey J. Meffert, MD.
---
Did this answer your question?
Additional feedback? (Optional)
Thank you for your feedback!