Answer
Seborrheic dermatitis is a papulosquamous disorder patterned on the sebum-rich areas of the scalp, face, and trunk (see the image below). In addition to sebum, this dermatitis is linked to Malassezia, [1] immunologic abnormalities, and activation of complement. Its severity ranges from mild dandruff to exfoliative erythroderma.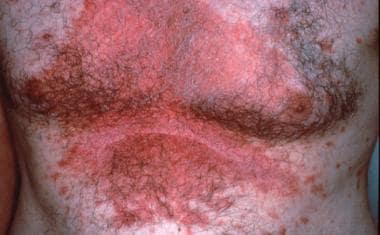 Seborrheic dermatitis may affect any hair-bearing area, and the chest is frequently involved. Courtesy of Wilford Hall Medical Center Dermatology Teaching slides.
---
Did this answer your question?
Additional feedback? (Optional)
Thank you for your feedback!