Answer
Answer
The clinical findings associated with psoriatic nail disease correlate with the anatomical location of the nail unit that is affected by the disease. The nail unit is composed of the nail plate, the nail bed, the hyponychium, the nail matrix, the nail folds, the cuticle, the anchoring portion of the nail bed, and the distal phalangeal bones (see the images below). The nail plate is the largest component of the nail unit. The nail matrix gives rise to the nail plate.
Any defect to the matrix results in onychodystrophy of the growing nail plate. The proximal nail matrix forms the dorsal portion of the nail plate, whereas the distal matrix forms the ventral part of the nail plate. The clinical presentation may vary depending on the location and the severity of inflammation of the affected nail unit. [7] See the images below.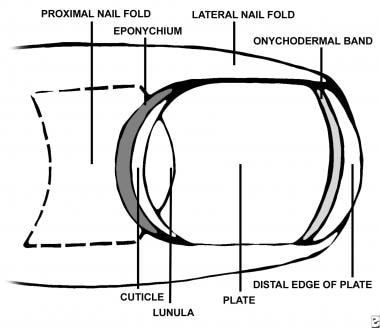 Anatomy of the nail, superior view.
Anatomy of the nail, sagittal view.
---
Did this answer your question?
Additional feedback? (Optional)
Thank you for your feedback!