Answer
Answer
Psoriatic nail disease has many clinical signs. Most psoriatic nail disease occurs in patients with clinically evident psoriasis; it only occurs in less than 5% of patients with no other cutaneous findings of psoriasis.
An estimated 10-55% of all patients with psoriasis have psoriatic nail disease, and approximately 7 million people in the United States have psoriasis. About 150,000-260,000 new cases of psoriasis are diagnosed each year. US physicians see 1.5 million patients with psoriasis per year.
Severe psoriatic nail disease can lead to functional and social impairments if left untreated. [1, 2]
See the images of psoriatic nail disease below.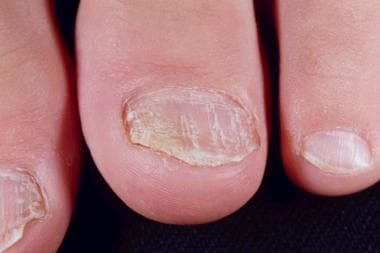 Courtesy of Hon Pak, MD.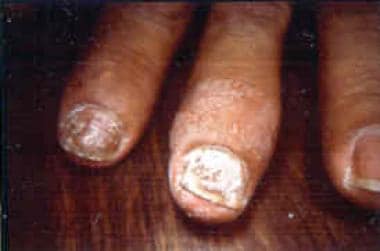 Classic distal interphalangeal joint involvement in psoriatic arthritis.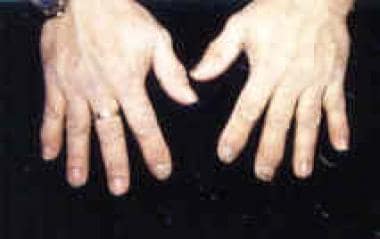 This patient has extensive psoriasis, nail involvement, and joint pain.
See Fingernail and Toenail Abnormalities: Nail the Diagnosis, a Critical Images slideshow, to help identify conditions associated with various nail abnormalities.
For patient education information, see the Skin Conditions & Beauty Center and Arthritis Center, as well as Psoriasis, Types of Psoriasis, Psoriasis Medications, and Psoriatic Arthritis.
---
Did this answer your question?
Additional feedback? (Optional)
Thank you for your feedback!