Answer
Answer
Because the clinical appearance is so characteristic, biopsy is seldom necessary to confirm the diagnosis of guttate psoriasis. Histopathologic changes may not be diagnostic when samples of early-stage papules are obtained at biopsy.
The epidermis shows hyperplasia and small foci of parakeratosis with an absence of the granular layer. Dermal changes consisting of capillary dilatation and edema may be more pronounced, and an infiltrate consisting of lymphocytes and macrophages is seen mostly in the upper dermis. A few polymorphonuclear leukocytes may be found at all levels. Early lesions exhibit more inflammation and less acanthosis, and very early lesions can show normal basket-weave orthokeratosis overlying parakeratotic changes.
In fully developed guttate lesions, vacuolated keratinocytes eventually disappear, leaving areas of agranulosis with overlying parakeratosis. Degenerated polymorphonuclear leukocytes on an otherwise orthokeratotic stratum corneum may be the earliest presentation of Munro microabscesses.
The term squirting papillae has been used to describe a phenomenon wherein neutrophils are discharged from the papillary capillaries, resulting in collections of neutrophils in association with parakeratotic mounds, as demonstrated in the image below. In some cases, marked exudation may lead to the formation of the highly diagnostic spongiform pustule of Kogoj, which is seen in psoriasiform variants. [21, 51] (See the images below regarding histologic findings.)
Histopathologic findings and severity do not correlate with the clinical severity or Psoriasis Severity Index. [49]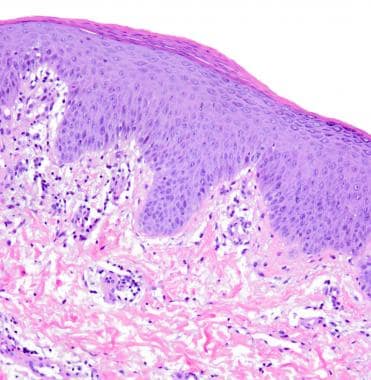 Guttate psoriasis. Superficial perivascular, predominantly lymphocytic infiltrate with minimal dermal edema. The overlying epidermis has psoriasiform hyperplasia. Notice how the stratum granulosum (on right) disappears underneath the mound of parakeratosis in the stratum corneum (in center) (hematoxylin and eosin, 100X). Courtesy of Cary Chisholm, MD.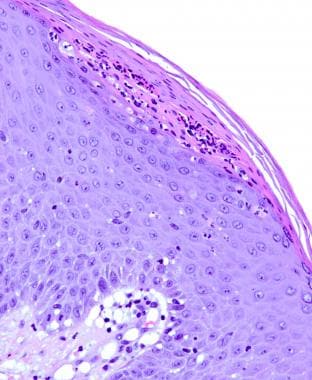 Guttate psoriasis. A Munro microabscess is present in the stratum corneum, underneath parakeratosis (in center). Neutrophils can be seen migrating through the psoriasiform epidermis, towards the microabscess (the so-called squirting papillae) (hematoxylin and eosin, 200X). Courtesy of Cary Chisholm, MD.
---
Did this answer your question?
Additional feedback? (Optional)
Thank you for your feedback!