Answer
Answer
Guttate psoriasis is characterized by the acute onset of small, 1-10 mm diameter, droplike, erythematous-to-salmon-pink papules, usually with a fine scale, [1] as demonstrated in the images below.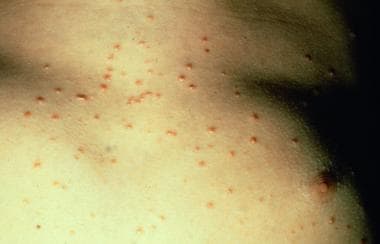 Guttate psoriasis. The distinctive, acute clinical presentation of guttate psoriasis characterized by small, droplike, 1-10 mm in diameter, salmon-pink papules, usually with a fine scale. Courtesy of Hon Pak, MD.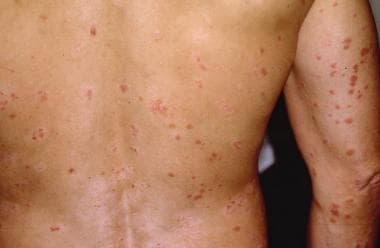 Guttate psoriasis. Courtesy of Hon Pak, MD.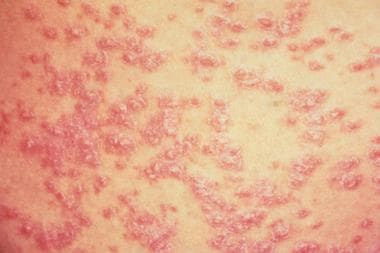 Guttate psoriasis. Note characteristic lesions consisting of multiple, discrete, droplike papules with a salmon-pink hue. A fine scale, which is usually absent in early-stage lesions, may be appreciated on the more established ones. Courtesy of Hon Pak, MD.
See Psoriasis: Manifestations, Management Options, and Mimics, a Critical Images slideshow, to help recognize the major psoriasis subtypes and distinguish them from other skin lesions.
This variant of psoriasis primarily occurs on the trunk and the proximal extremities, but it may have a generalized distribution. Lesions usually spread centripetally and are monomorphic. New guttate psoriasis lesions continue to develop during the first month of disease; they remain stable during the second month, and the remission begins during the third month. [2] The word guttate is derived from the Latin word gutta, meaning drop.
Guttate psoriasis is more common in individuals younger than 30 years. An upper respiratory tract infection from group A beta-hemolytic streptococci (eg, Streptococcus pyogenes) often precedes the eruption by 2-3 weeks. [3] Streptococcal perianal dermatitis, a superficial bacterial infection of the anus and perianal skin in children, has also been linked with the appearance of guttate psoriasis. [4, 5]
Although episodes may recur, especially those due to pharyngeal carriage of streptococci, isolated bouts have commonly been described. Generally, the disease is self-limiting, but a certain percentage of cases progress to chronic plaque psoriasis.
The sudden appearance of the papular lesions in response to streptococcal infection could either be the first manifestation of psoriasis in a previously unaffected individual or an acute exacerbation of long-standing plaque psoriasis. Uncommonly, guttate psoriasis may be chronic in nature and/or arise in the absence of preceding streptococcal infection. [6] Other triggers include viral infection and medications. [7, 8, 9, 10, 11]
For more information, go to Psoriasis.
---
Did this answer your question?
Additional feedback? (Optional)
Thank you for your feedback!