Answer
Acute paronychia usually results from a traumatic event, however minor, that breaks down the physical barrier between the nail bed and the nail; this disruption allows the infiltration of infectious organisms. (See the image below.)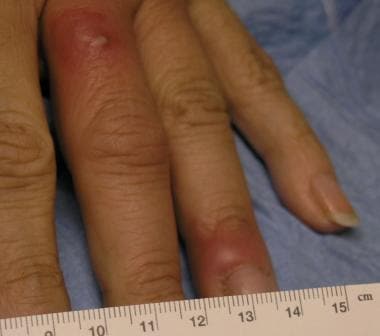 Paronychial erythema and edema with associated pustule. This suggests a bacterial etiology.
Acute paronychia can result from seemingly innocuous conditions, such as hangnails, or from activities such as nail biting, finger sucking, manicuring, or artificial nail placement. Causative organisms include the following [10] :
Staphylococcus aureus - The most common infecting organism
---
Did this answer your question?
Additional feedback? (Optional)
Thank you for your feedback!