Answer
The nail organ is an integral component of the digital tip. It is a highly versatile tool that protects the fingertip, contributes to tactile sensation by acting as a counterforce to the fingertip pad, and aids in peripheral thermoregulation via glomus bodies in the nail bed and matrix. Because of its form and functionality, abnormalities of the nail unit result in functional and cosmetic issues.
The anatomy of the nail complex is shown in the image below. The nail is longitudinally flanked by 2 lateral folds, or perionychium. Proximally, it is covered by the eponychium. Distal to the perionychium, the region immediately beneath the free edge of the nail is the hyponychium. The hyponychium serves as a tough physical barrier that resists bacterial infection.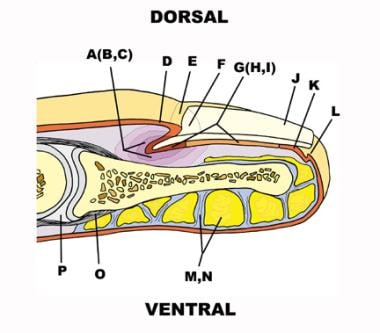 Depicted are the nail fold (A), dorsal roof (B), ventral floor (C), nail wall (D), perionychium (E), lunula (F), nail bed (G), germinal matrix (H), sterile matrix (I), nail plate (J), hyponychium (K), distal groove (L), fascial septa (M), fat pad (N), distal interphalangeal joint (O), and extensor tendon insertion (P).
---
Did this answer your question?
Additional feedback? (Optional)
Thank you for your feedback!