Answer
Paronychia is a soft tissue infection around a fingernail that begins as cellulitis but that may progress to a definite abscess. [1] The 2 types of paronychia are as follows [2] :
Acute paronychia - Painful and purulent condition; most frequently caused by staphylococci

Chronic paronychia - Usually caused by a fungal infection
The image below depicts paronychia.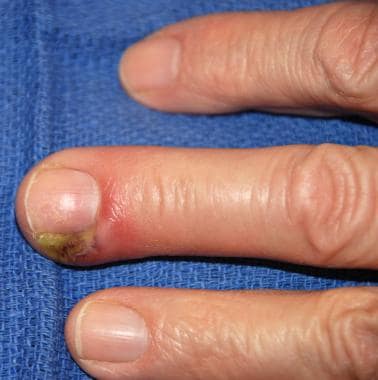 Classic presentation of paronychia, with erythema and pus surrounding the nail bed. In this case, the paronychia was due to infection after a hangnail was removed.
---
Did this answer your question?
Additional feedback? (Optional)
Thank you for your feedback!