Answer
Answer
This article reviews the dermatologic manifestations of Mycobacterium avium-intracellulare (MAI, or MAC) infection.
MAI is an opportunistic pathogen that usually causes disease in the weakened immune system. [1] Although the prevalence of MAI infection has increased following the epidemic of acquired immunodeficiency syndrome (AIDS), MAI infection remains a rare cause of skin disease. However, MAI has been found to cause cutaneous disease in individuals mostly with immunosuppression, although it has also been reported in immunocompetent patients as well. [1]
Primary cutaneous MAI infection generally occurs in hosts who are immunocompetent after traumatic introduction into the soft tissue. Local disease ensues, manifested primarily as nodules that may progress to ulcers. One case report described primary MAI infection resulting in a clinical picture resembling lupus vulgaris. [2]
Disseminated disease (DMAI) most commonly occurs in individuals who are immunosuppressed, and hematogenous seeding of the skin may result in a wide variety of skin lesions, including panniculitis, [3] folliculitis, acute disease with hemorrhagic pustules, nodules, and abscesses. Disease may present primarily in the skin with later dissemination. [4]
See the image below.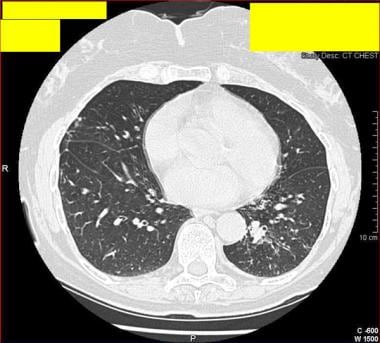 CT thorax scan of a 77-year-old woman who presented with chronic cough and sputum production, without a history of underlying preexisting lung disease. Sputum culture grew Mycobacterium avium complex. The diagnosis was Lady Windermere syndrome.
An interesting case reported in 2012 involved in a child with complete interferon (IFN)–γ receptor-1 deficiency interrupting the interleukin (IL)–12/IFN-γ pathway and resulting in granulomatous skin papules and plaques and lower extremity edema. In this child, recurrent infection with MAI, Mycobacterium tuberculosis, Mycobacterium bovis, and Mycobacterium fortuitum all occurred. [4]
MAI is the most common cause of pediatric cervical adenitis. Skin involvement in this setting is not uncommon and includes sinus track and abscess formation. Cervical adenitis rarely involves deeper structures, but it may result in extensive superficial destruction with cosmetic deformity.
See also Mycobacterium Avium-Intracellulare.
---
Did this answer your question?
Additional feedback? (Optional)
Thank you for your feedback!