Answer
Skin lesions of classic necrobiosis lipoidica begin as 1- to 3-mm, well-circumscribed papules that expand to form plaques with active, more-indurated borders and waxy, strophic centers. Initially, these plaques are reddish brown but progressively become more yellow, shiny, and atrophic in appearance. (See the images below.)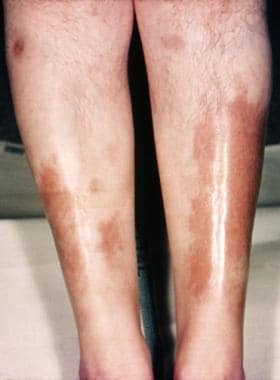 Typical presentation of necrobiosis lipoidica on the lower pretibial legs.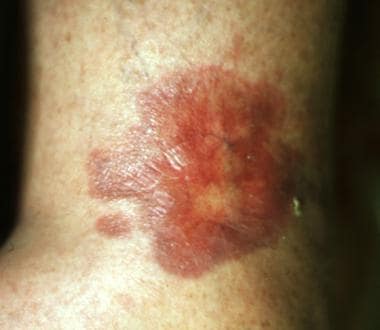 Red-brown plaque with yellow atrophic center on lower leg.
Most cases of necrobiosis lipoidica occur on the pretibial area, but cases have been reported on the face, scalp, trunk, and upper extremities, where the diagnosis is more likely to be missed. Multiple telangiectatic vessels can be seen on the surface of the thinning epidermis.
Ulceration at the site of trauma and subsequent infection are occasional complications of necrobiosis lipoidica. The Koebner phenomenon has been well established in patients with necrobiosis lipoidica, especially in patients with vasculitis at the site of trauma. [12]
Miller reported a case of a woman with known type 1 diabetes mellitus who developed biopsy-proven necrobiosis lipoidica in a cholecystectomy scar and also on her abdomen at insulin injection sites.
In most patients, the lesions of necrobiosis lipoidica are multiple and bilateral. The lesions may become painless because of cutaneous nerve damage (75% of cases), or they may be extremely painful (25% of cases).
---
Did this answer your question?
Additional feedback? (Optional)
Thank you for your feedback!