Answer
Physical signs and symptoms are as follows:
General: Infants are typically irritable and often inconsolable, and they show a slowing or cessation of growth and development.

Skin: Erythematous, dry, and scaly patches and plaques are present and may evolve into crusted, vesiculobullous, erosive, psoriasiform, and pustular lesions. Lesions are predominantly distributed in a periorificial and acral pattern and may become secondarily infected with Staphylococcus aureus or Candida albicans.

Mucosa: Findings include angular cheilitis, glossitis, conjunctivitis, blepharitis, punctate keratopathy, and photophobia.

Nails: Paronychia and nail dystrophy are typical.

Hair: Patients have loss of scalp hair, eyebrows, and eyelashes.
See the image below.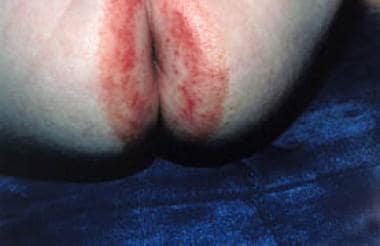 Sharply demarcated, brightly erythematous periorificial plaque in an infant with acrodermatitis enteropathica.
---
Did this answer your question?
Additional feedback? (Optional)
Thank you for your feedback!