Answer
Histologic examination reveals hyperkeratosis, papillomatosis, with minimal or no acanthosis or hyperpigmentation. The dermal papillae project upward as fingerlike projections, with occasional thinning of the adjacent epidermis. Pseudohorn cysts may be present. Clinical dyschromia is secondary to the hyperkeratosis and not to increased melanocytes or increased melanin deposition. Dermal inflammatory infiltrate is minimal or nonexistent.
Mucosal acanthosis nigricans reveals epithelial hyperkeratosis and papillomatosis along with parakeratosis. [1]
Note the image below.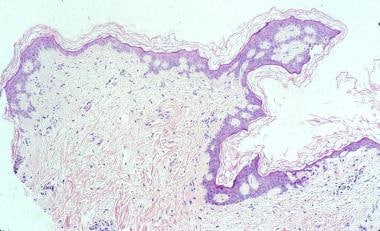 Acanthosis nigricans biopsy. The epidermis is papillomatous (undulates) and pigmented ("nigricans"). Acanthosis (thickening of the spinous layer) is often not really present, so acanthosis nigricans is often a misnomer in many cases.
---
Did this answer your question?
Additional feedback? (Optional)
Thank you for your feedback!