Answer
Acanthosis nigricans is characterized by symmetrical, hyperpigmented, velvety plaques that may occur in almost any location but most commonly appear on the intertriginous areas of the axilla, groin, and posterior neck. The posterior neck is the most commonly affected site in children.
Acrochordons (skin tags) are often found in and around the affected areas. Occasionally, lesions of acanthosis nigricans may be present on the mucous membranes of the oral cavity, nasal and laryngeal mucosa, and esophagus. The areola of the nipple also may be affected. Eye involvement, including papillomatous lesions on the eyelids and conjunctiva, may occur. Nail changes, such as leukonychia and hyperkeratosis, have been reported.
The lesions of malignant acanthosis nigricans are clinically indistinguishable from benign acanthosis nigricans.
Note the images below.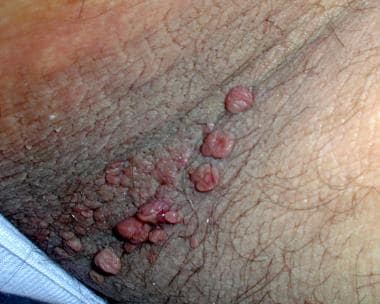 Brown velvety plaques with skin tags in the axilla of a patient with acanthosis nigricans.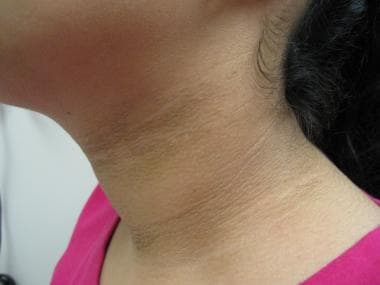 Acanthosis nigricans.
Acanthosis nigricans, obesity related.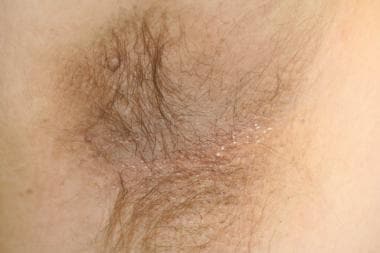 Acanthosis nigricans of the axilla with one skin tag.
---
Did this answer your question?
Additional feedback? (Optional)
Thank you for your feedback!