Answer
CT scanning (see image below) is superior to MRI in detailing cortical bone erosion and tumor mineralization, whereas MRI is useful in providing views of the long axis of the limb and in depicting the fatty nature of the tumor.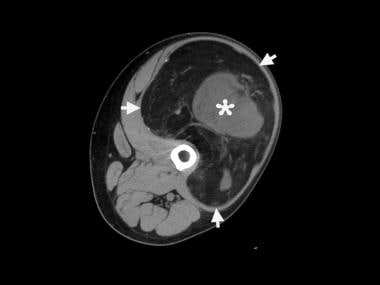 Computed tomography (CT) scan of a left thigh shows a huge mass (arrows) with predominant fat attenuation. The central soft-tissue component (asterisk) and thick, internal septations are consistent with liposarcoma.
Most liposarcomas have well-defined and mostly lobulated margins. The well-differentiated liposarcomas are composed of mainly fat with septa or nodules. These tumors are hyperintense on T2-weighted images, and they demonstrate faint enhancement or no enhancement after the intravenous administration of contrast material.
Myxoid liposarcomas are homogeneous or mildly heterogeneous, and a pseudocapsule can be present. Pleomorphic types have a markedly heterogeneous internal structure. Both myxoid and pleomorphic lesions have moderate or marked heterogeneous enhancement after the administration of contrast material. Well-differentiated liposarcomas may be distinguished from the other types by their largely lipomatous appearance. The malignancy grade increases with the degree of tumor heterogeneity and contrast enhancement.
Angiography may demonstrate tumor malignancy on the basis of prominent vascularity; thus, angiography may be of value in planning surgical resection.
Chest radiography may be used as an initial screening for pulmonary metastases; however, the definitive test for detection of pulmonary metastases is chest CT scanning.
An early-phase bone scan may show a marked increase of radioisotopic uptake.
Risk assessment in liposarcoma patients can be based on [(18)F]fluorodeoxyglucose (FDG) PET imaging. [29] Although tumor grade and subtype are considered standard parameters for risk assessment in patients with liposarcoma, pretherapy tumor standardized uptake values obtained by FDG PET imaging was found to be a more useful parameter for risk assessment in liposarcoma compared with tumor grade or subtype. A maximum standardized uptake value of more than 3.6 was associated with significantly reduced disease-free survival and identified patients at high risk for developing early local recurrences or metastatic disease.
Also see Liposarcoma Imaging.
---
Did this answer your question?
Additional feedback? (Optional)
Thank you for your feedback!