Answer
Patients with acute disseminated LCH (multiorgan involvement) present with fever, anemia, thrombocytopenia, pulmonary infiltrates, skin lesions, and enlargement of lymph nodes, spleen, and liver. Cutaneous abnormalities are present in almost 80% of patients, frequently as the first sign. The eruption may be extensive, involving the scalp, face, trunk, buttocks, and intertriginous areas. Lesions consist of closely set petechiae and yellow-brown papules topped with scale and crust. The papules may coalesce to form an erythematous, weeping or crusted eruption mimicking seborrheic dermatitis. Intertriginous lesions are often exudative, and secondary infection and ulceration may occur. Note the images below.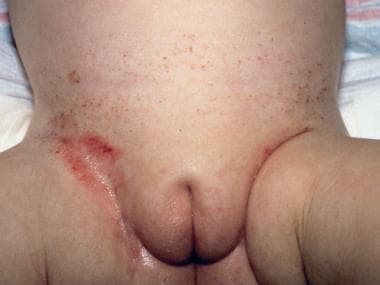 Letterer-Siwe disease. Bilateral inguinal erosive plaques and erythematous papules on the abdomen. Courtesy of Dr Neil S. Prose.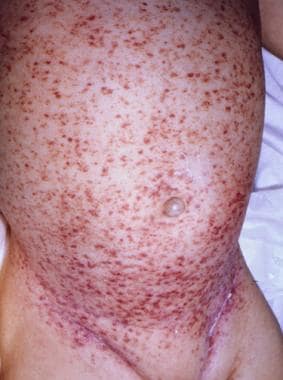 Abdominal area of an infant with multiple erythematous papules covered by scale and/or crust.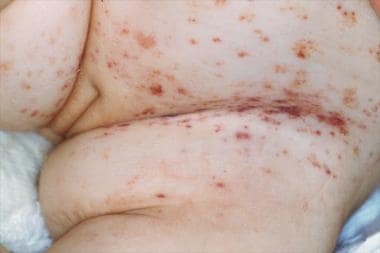 Typical purpuric lesions in Langerhans cell histiocytosis (must be distinguished from seborrheic dermatitis).
Osteolytic lesions are not common in the disseminated form of LCH, but the mastoid can be affected, resulting in a clinical picture of otitis media, which may be the presenting complaint. Aural discharge, conductive hearing loss, and postauricular swelling have been described. [44]
As described above, patients with pulmonary involvement present with chest pain, hemoptysis, dyspnea, failure to thrive, cystic changes, and pneumothorax; if lung disease is extensive, oxygen diffusion and lung capacity may be reduced. [45, 46]
Neurologic involvement may produce seizures, vertigo, headache, ataxia, and cognitive defects.
---
Did this answer your question?
Additional feedback? (Optional)
Thank you for your feedback!