Answer
In the plaque type of dermatofibrosarcoma protuberans (DFSP), slender tumor cells with large, spindle-shaped nuclei are embedded fairly uniformly in the collagen stroma, parallel to the skin surface. Mitotic figures are sparse. The more characteristic findings are seen in the nodular type. These findings include the high cellularity and irregular, short, intersecting bands of tumor cells forming a storiform pattern. Also typical are cells radiating from a central hub of fibrous tissue forming a cartwheel pattern. The degree of cellular atypia is higher in nodular lesions than in plaque lesions. Occasionally, DFSP may show focal fibrosarcomatous changes with a characteristic herringbone pattern. The cellular atypia is then even more prominent with hyperchromatic nuclei and more mitotic figures. [2, 18] Note the images below.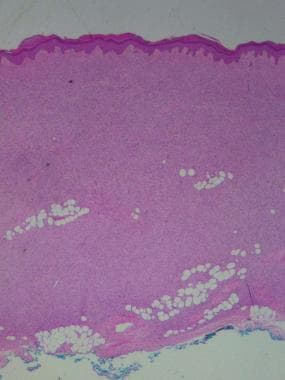 Dermatofibrosarcoma protuberans (DFSP) tumor cells take over the dermis and subcutaneous adipose tissue and then approach the fascia plane. The tumor nodule manifests with high cellularity. Under histopathologic examination, these DFSP tumor cells are spindle shaped. They tend to grow in a storiform pattern in the center portion of the tumor. They may also grow in a diffuse infiltrative pattern at the periphery, forming a honeycomb pattern. Often, no defined border can be recognized between the tumor and normal tissue.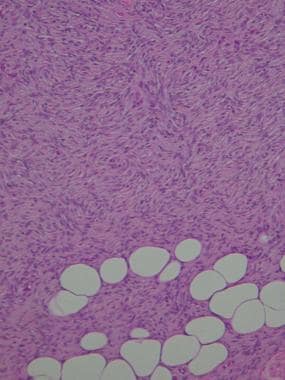 Higher-power view of dermatofibrosarcoma protuberans reveals subcutaneous adipocytes entrapped by densely infiltrative spindle-shaped tumor cells.
In the pigmented variant of DFSP, also known as Bednar tumor, the melanin-containing dendritic cells are scattered between the neoplastic spindle-shaped cells. [27]
In the juvenile form (giant cell fibroblastoma), cleftlike pseudovascular spaces are lined by multinucleated cells. The intervening tumor may have loose hypocellular areas and areas that resemble mature DFSP.
Immunohistochemistry studies have shown moderate-to-strong staining of human progenitor cell antigen CD34 in tumor cells. CD34 is a useful marker that allows differentiation of DFSP tumor cells from normal stroma cells and dermatofibroma. In dermatofibroma, tumor cells are positive for factor XIIIa and are rarely positive for CD34. Additionally, immunostaining using CD34 as a marker is helpful in identifying tumor cells at the surgical margins, particularly when treating recurrent DFSP in which tumor cell fascicles are often interspersed with the scar tissue. [28, 29] Note the image below.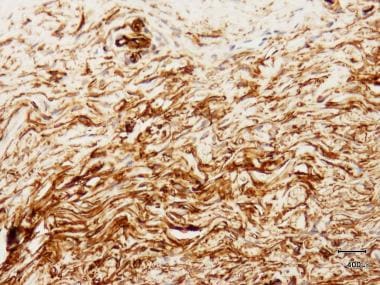 DFSP demonstrates strong CD34 staining with immunohistochemistry.
---
Did this answer your question?
Additional feedback? (Optional)
Thank you for your feedback!