Answer
Dermatofibrosarcoma protuberans (DFSP) usually presents as a large, indurated plaque several centimeters in diameter. DFSP is composed of firm, irregular nodules varying in color from flesh to reddish brown. Telangiectasia may be apparent on the surface or at the periphery.
Sometimes, DFSP may present as a morphealike, atrophic, sclerotic, violaceous plaque without nodularity that may ulcerate as it slowly increases in size.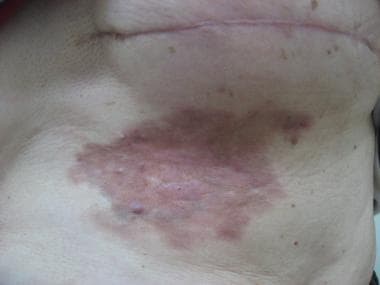 A large dermatofibrosarcoma protuberans is seen on the abdomen. It has an appearance of atrophic plaque, while foci of nodularity also can be seen.
Mostly the tumor is mobile upon palpation; however, fixation to deeper structures such as fascia, muscle, and bone may occur in the later stage of the tumor.
DFSP most commonly occurs on the trunk (42-72%), followed by the proximal extremities (16-30%). DFSP rarely occurs above the neck (10-16%) [1] and extremely rarely on the breast. [19]
---
Did this answer your question?
Additional feedback? (Optional)
Thank you for your feedback!