Answer
In 2001, Cowper et al [38] described the unique histopathologic features of nephrogenic systemic fibrosis, specifically, thickened collagen bundles with surrounding clefts, mucin deposition, and a proliferation of fibroblasts and elastic fibers.
Early lesions (within 20 wk of clinic onset) demonstrate reticular, dermal, large, and epithelioid or stellate spindle cells. These cells can extend into and widen the subcutaneous fat lobule septa. The spindle cells are diffusely arranged among thickened collagen bundles.
Clefts can encompass some spindle cells. Most of the spindle cells are CD34/procollagen dual-positive cells that form a dense interconnecting network.
Because this condition is not commonly reported, diagnostic errors abound. Spindle cell proliferation can be confused with dermatofibrosarcoma protuberans or even spindle cell melanoma. Alcian blue, mucicarmine, or Movat pentachrome stains can be used to detect variable amounts of mucin. Thick elastic fibers oriented parallel to collagen bundles are usually present.
Some cases of nephrogenic systemic fibrosis have manifested with a scant superficial and deep lymphocytic infiltrate, although inflammation is usually absent, and this finding should prompt consideration of an alternative diagnosis. Multinucleated cells positive for CD68 and factor XIIIa–positive cells are commonly present.
Late lesions (>20 wk of clinical onset) typically have less prominent clefting, less mucin, and fewer CD34/procollagen–positive cells. Calcification, which is described in some patients and which has been interpreted as dystrophic in nature, can be present.
Histopathologically, nephrogenic systemic fibrosis resembles scleromyxedema in that it manifests with a proliferation of dermal fibroblasts and dendritic cells, thickened collagen bundles, increased elastic fibers, and mucin deposition. Tram tracking of CD34+ dendrocytes is noted on either side of elastic fibers. Osteoid may form around elastic fibers (lollipop bodies). See the images below.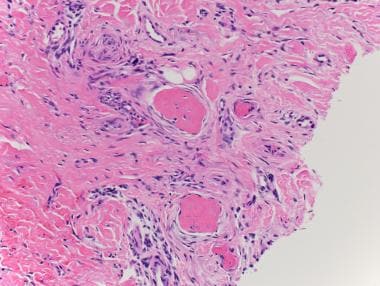 Osteoid in dermis. Courtesy of Dirk M Elston, MD.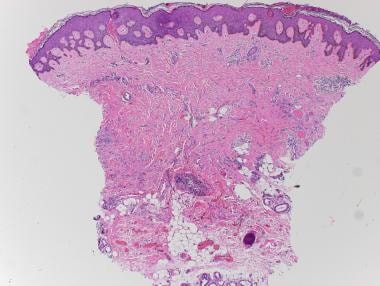 Hypercellular dermis. Courtesy of Dirk M Elston, MD.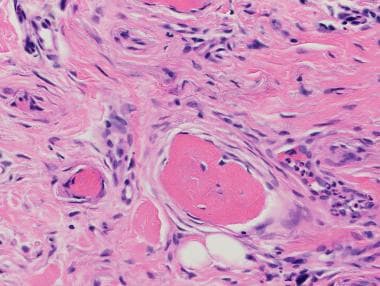 Lollipop bodies (osteoid with protruding elastic fibers). Courtesy of Dirk M Elston, MD.
---
Did this answer your question?
Additional feedback? (Optional)
Thank you for your feedback!