Answer
A skin or muscle biopsy is the most effective method used to diagnose CCE. Its efficacy has been proven in an autopsy study of 20 patients with confirmed CE. Random biopsy specimens from the gastrocnemius and quadriceps muscle groups were positive for emboli in 19 cases. Seven of 7 patients with clinical symptoms suggestive of CCE had a positive diagnosis antemortem after muscle biopsy. In a review of CCE, diagnosis was possible in 22 (92%) of 24 cases in which a skin biopsy was performed. Many have emphasized the need for deep biopsies (eg, incisional), in order to obtain vessels of sufficient size that are likely to be occluded with emboli, and the need for subserial sectioning of specimens. Note the images below.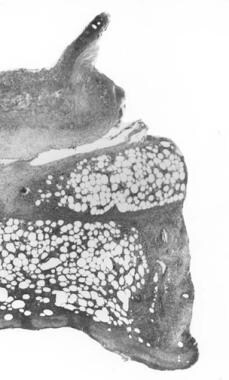 Skin biopsy specimen demonstrating ulceration and an occluded vessel at the right border of the specimen within the fat. Hematoxylin and eosin stain at 22X magnification.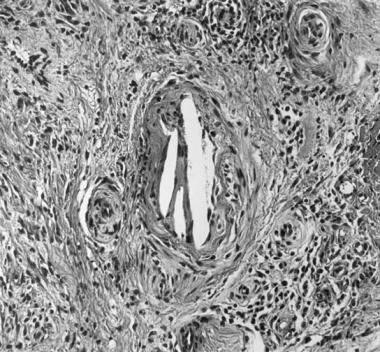 Higher magnification of the same biopsy specimen, demonstrating cholesterol clefts within an occluded arteriole. Hematoxylin and eosin stain at 297X magnification.
Percutaneous renal biopsy and endoscopic gastrointestinal biopsy are more invasive methods of diagnosing CE and are used in cases of systemic embolization.
Amputated limbs or toes can be scrutinized for emboli in the vessels.
Embolectomy specimens can also be examined for cholesterol crystals.
Although rare, cholesterol clefts have been found in bone marrow biopsy samples and remnants from prostatic curettage.
---
Did this answer your question?
Additional feedback? (Optional)
Thank you for your feedback!