Answer
The general term atheromatous emboli describes the embolization of any atheromatous material. Atheroemboli refers to the dislodgment of relatively large portions of atheromatous plaques containing RBCs and fibrin aggregates, which includes cholesterol crystals of sufficient size to occlude a major systemic artery and potentially result in major organ dysfunction. Cholesterol emboli (CE), on the other hand, result from ulceration of plaques and the subsequent release of cholesterol crystals. These emboli are smaller and usually more numerous, often producing multisystem disease.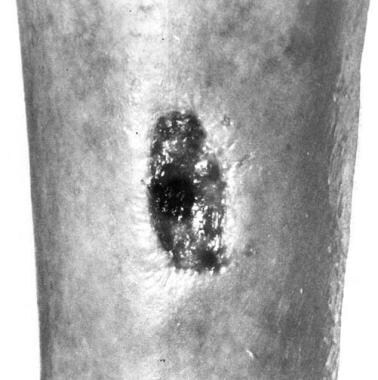 Chronic leg ulcer due to cutaneous cholesterol emboli on the leg of a 79-year-old woman.
The term cutaneous CE (CCE) is used when CE result in disease of the skin, as shown in the image below. The terms peripheral emboli, lower extremity atheromatous emboli syndrome, blue toe syndrome, purple toe syndrome, and trash foot refer to special cases of CE to the lower extremities in which cutaneous manifestations are usually present, the latter three occurring in association with anticoagulation or vascular surgery. [1]
In 1945, Flory was the first to suggest that CE may produce skin disease. [2] His hypothesis was later validated by Hoye and associates in 1959, who observed arteries occluded with cholesterol crystals in areas of gangrene on the feet and toes. [3]
It is more commonly associated with iatrogenic manipulation via invasive vascular procedures or therapies (anticoagulation or thrombolytics) and, most commonly, affects the kidneys, gastrointestinal system, and skin. [4] Skin findings can facilitate clinical diagnosis, since about 88% of patients with CCE have them, most commonly livedo reticularis and cyanotic changes of the toes.
CCE is a disease primarily of elderly white men with ulcerous atherosclerosis. Atherosclerotic foci release cholesterol crystals spontaneously or after anticoagulation or endovascular manipulation, inducing the obstruction of small arteries. Cholesterol embolization syndrome is a systemic disease due to distal showering of cholesterol crystals after angiography, major vessel surgery, or thrombolysis. Obstruction of cutaneous vasculature most often results in a clinical picture of livedo reticularis (LR). It is more common in patients with atherosclerotic disease, hypertension, a history of smoking, and elevated baseline plasma C-reactive protein levels.
Gangrene, cyanosis, ulcers, nodules, and purpura can also be observed. In cases of multisystem involvement, CCE may masquerade as many different diseases, but the clinical picture most often mimics a vasculitis. Skin or muscle specimens demonstrate the cholesterol crystals characteristic of this disease.
Treatment is based on the identification of the source of emboli through angiography and on the exclusion of that source from the circulation. Medical therapy has largely been unsuccessful. Gangrene necessitating amputation is the major complication of CCE, but complications may occur in practically any organ system. Without surgery, CCE is a recurrent process with a high mortality rate.
---
Did this answer your question?
Additional feedback? (Optional)
Thank you for your feedback!