Answer
Plain radiography uniformly demonstrates an arborization of vascular calcification within the dermis and the subcutaneous tissue (see the image below). Although calcification is common in persons with end-stage renal disease, and not specific for calciphylaxis, a recent study showed patients with calciphylaxis had more vascular calcifications, more small vessel calcifications, and a netlike pattern of calcifications. This netlike pattern, when present, was strongly associated with the presence of calciphylaxis. [37]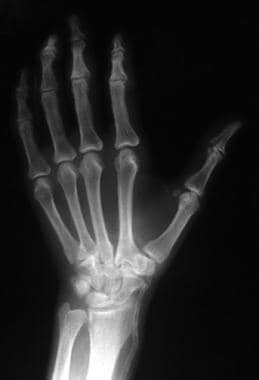 Radiologic findings of a hand in a patient with calciphylaxis. Extensive calcification of the radial and ulnar arteries is readily visible.
Bone scintigraphy may be used as a noninvasive diagnostic tool because the bone matrix protein osteopontin has recently been demonstrated in calciphylaxis lesions. [38] Serial bone scanning can also possibly be used to monitor progression or regression of disease. [39, 40]
---
Did this answer your question?
Additional feedback? (Optional)
Thank you for your feedback!