Answer
Early lesions of calciphylaxis manifest as nonspecific violaceous mottling; as livedo reticularis; or as erythematous papules, plaques, or nodules. More developed lesions have a stellate purpuric configuration with central cutaneous necrosis (see the image below).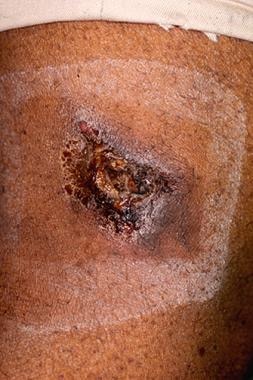 An isolated lesion of calciphylaxis manifesting as an enlarging necrotic plaque on the lower extremity of a patient undergoing dialysis. The stellate purpuric morphology can be appreciated surrounding the area of necrosis.
Multiple lesions of variable age may be present, following the path of the vasculature. Less commonly, lesions may manifest as either bullae (see the image below) or distinct subcutaneous, erythematous nodules suggestive of erythema nodosum. Lesions are excruciatingly tender and extremely firm.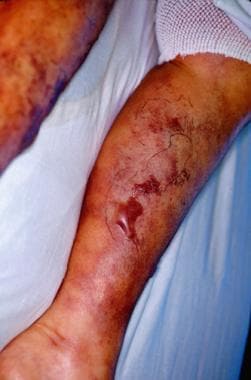 Calciphylaxis may manifest as rapidly progressive, diffuse and extensive, cutaneous necrosis, as is seen in this patient with chronic renal failure. Bullae may also be seen as a rare manifestation of calciphylaxis.
The distribution of the lesions may be characterized as proximal or distal. Ninety percent of lesions of calciphylaxis occur on the lower extremities. Distal lesions are those that occur below the knee; proximal lesions occur on the thighs or the trunk. Proximally distributed lesions occur in 44-68% of patients, with lesions developing predominantly on the thighs, the buttocks, and the lower part of the abdomen. Distal and visceral involvement are not uncommon.
An intact peripheral pulse helps to distinguish acral calciphylaxis from atherosclerotic peripheral vascular disease. Ulceration is considered a late finding and is associated with a higher mortality rate.
---
Did this answer your question?
Additional feedback? (Optional)
Thank you for your feedback!