Answer
Most patients with calciphylaxis have a long-standing history of chronic renal failure and renal replacement therapy. On rare occasions, calciphylaxis may occur in a patient with chronic renal failure prior to the initiation of replacement therapy. Very rarely, it may occur in an individual without a history of chronic renal failure.
Many persons who develop calciphylaxis have undergone renal allograft transplantation. The allograft may still be functional when calciphylaxis develops. Frequently, patients have been noncompliant with dietary, medical, and/or dialysis prescriptions prior to the onset of calciphylaxis.
Lesions of calciphylaxis typically develop suddenly and progress rapidly. Lesions may be singular or numerous, and they generally occur on the lower extremities (see image below); however, lesions also may develop on the hands and torso. Intense pain is a constant finding, likely related to vascular ischemia and cutaneous infarction.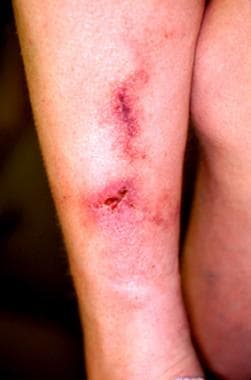 Several lesions of calciphylaxis that occurred on the lower extremity of a patient undergoing dialysis. These lesions developed in areas of livedo reticularis and followed the path of the vasculature.
---
Did this answer your question?
Additional feedback? (Optional)
Thank you for your feedback!