Answer
Answer
Nonmelanoma skin cancer
Squamous cell carcinoma (SCC) is the most common cutaneous malignancy in renal transplant recipients and occurs 50-250 times more frequently in these individuals than in the general population. In contrast, basal cell carcinoma (BCC) occurs 6-10 times more frequently in the renal transplant recipient. As a result of the markedly increased incidence of SCC, an inversion is seen in the ratio of basal cell carcinoma to SCC, from 4:1 in the general population to 1:3-4 in the renal transplant population. The image below illustrates SCC.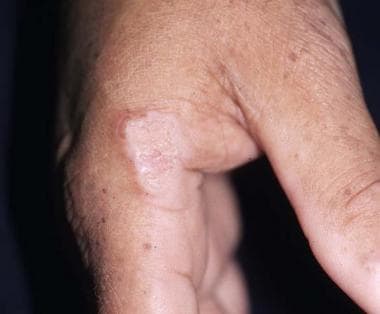 A hyperkeratotic plaque on this renal transplant recipient was proven to be squamous cell carcinoma. Similar lesions are frequently mistaken for warts.
Nonmelanoma malignancies occur at a younger age in renal transplant recipients and are characterized by a more rapid and aggressive course, a higher recurrence rate, and a greater metastatic potential. Actinic keratoses also occur at a younger age and develop at a faster rate in renal transplant recipients. Actinic keratoses frequently have more severe cytologic atypia and may have more rapid progression to SCC. Clinically, it may be difficult to distinguish actinic keratoses, SCCs, and warts.
---
Did this answer your question?
Additional feedback? (Optional)
Thank you for your feedback!