Answer
Answer
Medication-related disorders include the following:
Gingival hyperplasia (see the following image)

Disorders of the pilosebaceous unit, including acne, folliculitis, hypertrichosis, keratosis pilaris, sebaceous gland hyperplasia, epidermal cysts (see the image below)
Many cutaneous changes seen in the renal transplant recipient (RTR) are related directly to medications used to suppress rejection of renal allograft. A full-blown Cushingoid appearance develops in 55-90% of patients and is associated with the high doses of corticosteroids used early after transplantation. Cutaneous findings include moon facies, development of a cervical fat pad (buffalo hump), striae distensae, cutaneous atrophy, and telangiectasias. Changes may resolve or improve when the corticosteroid dose is reduced, although these cutaneous changes may continue, as steroids are used long term. Gingival hyperplasia, which occurs in approximately one third of patients receiving cyclosporin A (CyA), tends to occur early and improve over time. See the image below.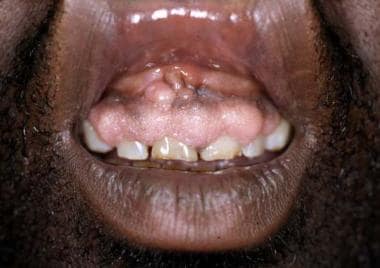 Cyclosporin may induce gingival hyperplasia in approximately one third of renal transplant recipients.
Other cutaneous changes involve poorly understood alterations in the pilosebaceous unit and may result from either CyA or corticosteroid use. Acne develops in 15% of patients and primarily affects the chest and back (see the image below). Most severe in the first year, acne later improves with reduction of the corticosteroid dose. Sebaceous gland hyperplasia and epidermal cysts are found with increased frequency and have been associated with the use of both corticosteroids and CyA. Hypertrichosis develops in 60% of patients and may be associated with the development of keratosis pilaris.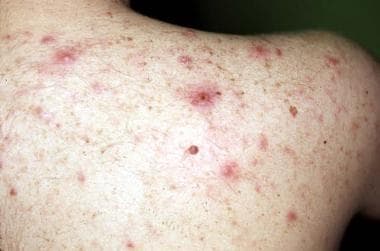 Lesions of steroid-induced acne (evident on the back of a renal transplant patient) may be severe.
---
Did this answer your question?
Additional feedback? (Optional)
Thank you for your feedback!