Answer
Answer
The arterial steal syndrome is an uncommon but highly morbid complication of the vascular access necessary for hemodialysis. Production of an adequate vascular access requires the formation of an arteriovenous connection either by using native vessels (arteriovenous fistula) or by placing synthetic tubing (arteriovenous graft). Vascular access typically is placed in the nondominant upper extremity. See the image below.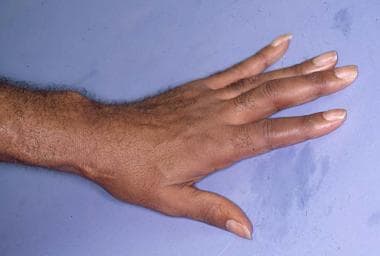 Arteriovenous graft visible on the patient's forearm. Cutaneous atrophy of the hand is the result of arterial steal syndrome resulting from this graft.
The arterial steal syndrome may develop if the inevitable proximal shunting of blood is significant enough to cause hand ischemia. [33] Proximal shunting is attributed to the reversal of blood flow through distal arteries, induced by the low-pressure system produced by the arteriovenous connection. Symptoms of arterial steal syndrome include pain and numbness. Prolonged ischemia may result in digital gangrene, peripheral neuropathy, or cutaneous atrophy. [33] Individuals at heightened risk for this complication include those with peripheral vascular disease, especially diabetes mellitus.
---
Did this answer your question?
Additional feedback? (Optional)
Thank you for your feedback!