Answer
Answer
Plasma porphyrins are poorly dialyzed and are mildly to moderately elevated in most patients on dialysis. A bullous disease that is clinically similar to but metabolically distinct from porphyria cutanea tarda (PCT) has been described in the dialysis population (see Bullous Disease of Dialysis) (see the following image). [32]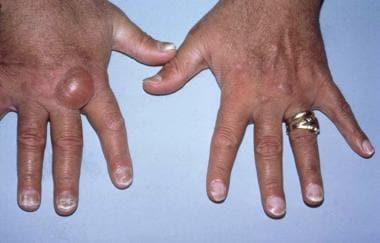 Hands of a transfusion-dependent patient on long-term hemodialysis. Several uremia-related cutaneous disorders are visible. The pigmentary alteration results from retained urochromes and hemosiderin deposition. The large bullae are consistent with either porphyria cutanea tarda or the bullous disease of dialysis. All nails show the distal brown-red and proximal white coloring of half-and-half nails.
True PCT also has been reported to occur in patients on dialysis. Interestingly, because of other comorbid processes, an increased incidence of PCT should be expected to occur in end-stage renal disease (ESRD). Patients on dialysis are frequently recipients of blood transfusions because of uremia-related anemia. Excessive transfusions may result in considerable iron overload, which can contribute significantly to the development of PCT. Ferritin levels may reach the 1500-2000 ng/mL range in some patients.
Multiple transfusions also raise the rate of hepatitis C (HCV) infection. In the United States, the prevalence of HCV in the dialysis population is 8-36% compared with 0.8-1.2% in the general population. Worldwide prevalence of HCV in patients with PCT is 40-94%. [15] Although PCT is a cutaneous manifestation of HCV infection, exactly how HCV may trigger PCT remains undetermined.
Fortunately, the incidence of PCT in the dialysis population should decrease. Erythropoietin has decreased the number of transfusions patients require, and currently, blood products are screened routinely for HCV.
---
Did this answer your question?
Additional feedback? (Optional)
Thank you for your feedback!