Answer
Answer
Uremia is the most common metabolic cause of pruritus. Significant pruritus affects 15-49% of patients with chronic renal failure and up to 85% of the dialysis population. However, its incidence in the dialysis population appears to have declined over the past few decades. [27] For some patients, pruritus may be relieved with the initiation of dialysis; however, pruritus more commonly begins approximately 6 months after initiation of dialysis and typically increases with the length of time on dialysis. Development of pruritus has no consistent association with age, sex, race, or precipitating disease. Pruritus may be episodic or constant, localized or generalized, and mild or severe. When localized, the forearms and upper back predominately are affected (see the image below).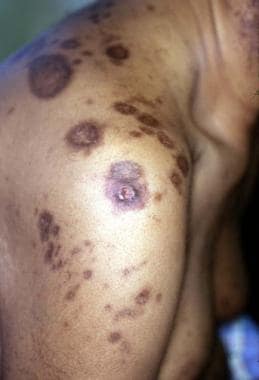 Chronic scratching resulting from uremic pruritus may result in numerous cutaneous lesions. This patient has many atrophic hyperpigmented scars and an excoriated prurigo nodule on the shoulder.
---
Did this answer your question?
Additional feedback? (Optional)
Thank you for your feedback!