Answer
Answer
Many cutaneous disorders are associated with diabetes mellitus, [2, 3, 4] including necrobiosis lipoidica diabeticorum, eruptive xanthomas, and diabetic dermopathy. Other characteristic dermatologic manifestations include scleredema, acanthosis nigricans, Kyrle disease (see the following image), [5] and cutaneous changes related to pruritus. One study suggested that of these cutaneous findings, diabetic dermopathy correlates best with internal involvement, including retinopathy, neuropathy, and nephropathy.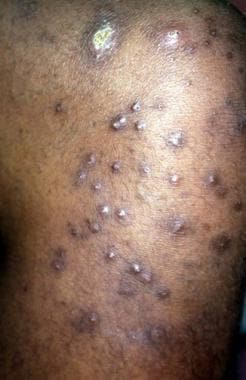 Patients with uremia may develop an acquired perforating disorder. These highly pruritic, hyperkeratotic papules of Kyrle disease are present on the lower extremity of a patient with diabetes and end-stage renal disease.
---
Did this answer your question?
Additional feedback? (Optional)
Thank you for your feedback!