Answer
The histologic features of angiofibroma in multiple endocrine neoplasia type 1 (MEN1) include dermal fibrosis, ectatic blood vessels, and stellate cells in the upper dermis, as shown in the image below.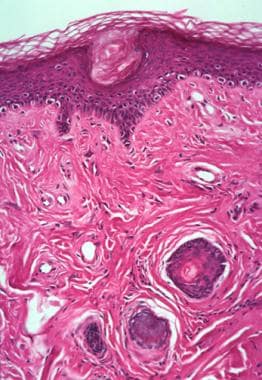 Light microscopic evaluation of a section of an angiofibroma shows prominent vessels and concentric rings of collagen around vessels and adnexal structures (hematoxylin and eosin, original magnification X100). These findings are indistinguishable from those observed in angiofibromas in patients with tuberous sclerosis.
The histologic features of collagenoma include increased amounts of collagen and normal or decreased numbers of elastic fibers, as shown in the image below. The features of the collagenoma may appear normal unless the biopsy sample includes surrounding healthy skin.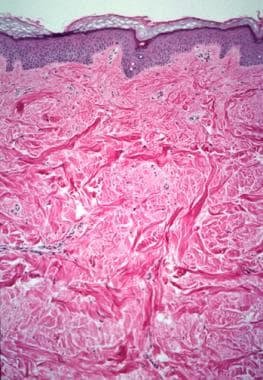 Histologic examination of a collagenoma reveals dense, thick collagen in the reticular dermis (hematoxylin and eosin, original magnification X40). An elastic stain showed reduced elastic fibers (not shown). Biopsy samples of collagenomas can be mistaken for healthy skin unless an elliptical excision containing surrounding healthy skin is obtained for comparison. The contrast with healthy skin accentuates the thickened dermis and collagen alterations seen in collagenomas.
The histologic features of lipoma include a circumscribed nodule of uniform adipocytes.
---
Did this answer your question?
Additional feedback? (Optional)
Thank you for your feedback!