Answer
Lesions begin as red papules with progression to grayish ring-formed patches containing perifollicular papules. Pustules with inflamed crusts, exudate, matted infected hairs, and debris may be seen. Black dot tinea capitis refers to an infection with fracture of the hair, leaving the infected dark stubs visible in the follicular orifices. Kerion celsi may progress to a patchy or diffuse distribution and to severe hair loss with scarring alopecia (see the image below). This is often described as having a "moth-eaten" appearance.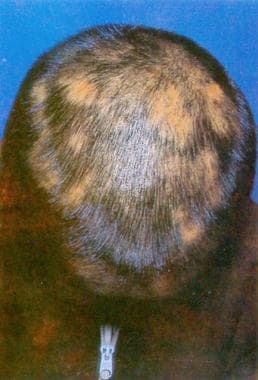 Discrete patches of hair loss or alopecia caused by Trichophyton violaceum infection of the vertex scalp of a young Taiwanese boy. Courtesy of Skin Diseases in Chinese by Yau-Chin Lu, MD. Permission granted by Medicine Today Publishing Co, Taipei, Taiwan, 1981.
---
Did this answer your question?
Additional feedback? (Optional)
Thank you for your feedback!