Answer
The patient is placed in the prone position on an elevated stretcher. The affected shoulder should be off the edge of the stretcher, hanging downward in 90° of forward flexion. The stretcher should be high enough to allow the patient's arm to dangle without touching the floor.
To prevent the patient from sliding off the stretcher, he or she is tightly strapped down with a sheet, and 5-10 lb of weight is securely fastened to the wrist of the affected arm to provide continuous traction. If weights are unavailable, two to four 1-L containers of normal saline and a stockinette can be used (see the image below). The patient is instructed to maintain this position for at least 15-20 minutes or until reduction is accomplished.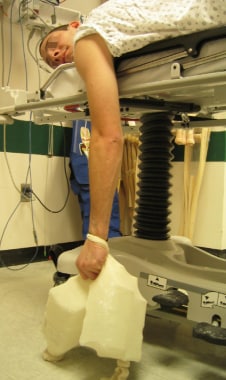 Reduction of shoulder dislocation: Stimson maneuver.
---
Did this answer your question?
Additional feedback? (Optional)
Thank you for your feedback!