Answer
Intra-articular anesthetic injection is performed as follows. Under sterile conditions, insert a 35-mm needle (18-20 gauge) or spinal needle 2 cm inferior to the lateral edge of the acromion into the glenohumeral joint. After aspirating blood, inject 10-20 mL of 1% lidocaine, with or without epinephrine, over 30 seconds. Then, wait 15-20 minutes before performing the procedure. [7] The injection can also be performed under ultrasonographic guidance.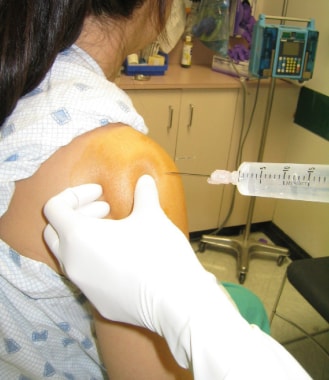 Reduction of shoulder dislocation: Stimson maneuver.
---
Did this answer your question?
Additional feedback? (Optional)
Thank you for your feedback!