Answer
Injuries to the brachial plexus are common in the setting of inferior glenohumeral dislocations. The sensory function of the axillary nerve can be tested by assessing pinprick sensation over the "regimental badge" area of the affected arm (see the image below). Radial nerve motor function of the affected arm can be assessed by examining the strength of wrist extension. Distal pulses and capillary refill should also be examined before and after reduction.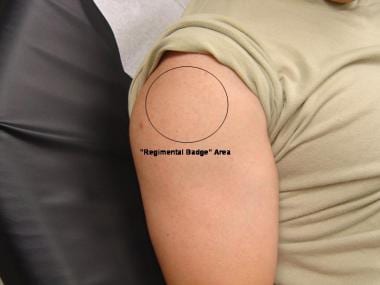 "Regimental badge" area. Examine pinprick sensation to this area to assess axillary nerve sensory function.
---
Did this answer your question?
Additional feedback? (Optional)
Thank you for your feedback!