Answer
To avoid a missed diagnosis, a thorough examination should be performed, and radiographs should be obtained that definitively show the orientation of the glenoid with respect to the humeral head. On an AP view of the shoulder, a posterior dislocation is very subtle. Several findings on AP views have been described, including the "trough sign," which is caused by a reverse Hill-Sachs defect, or loss of overlap of the humeral head and glenoid fossa (see the images below). However, these subtle findings frequently are missed.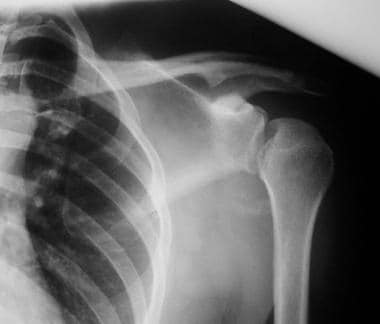 Anteroposterior radiograph of left shoulder shows posterior glenohumeral dislocation. Impaction of humeral head on posterior glenoid results in reverse Hill-Sachs defect (trough sign) on anterior aspect of humeral head. Image courtesy of Dr M A Png, Singapore General Hospital.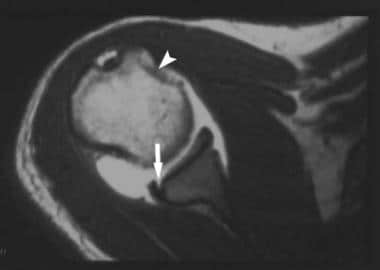 Axial spin-echo T1-weighted magnetic resonance arthrogram of right shoulder shows tear of posterior glenoid labrum (arrow) and reverse Hill-Sachs defect (arrowhead). Patient had previous posterior dislocation.
---
Did this answer your question?
Additional feedback? (Optional)
Thank you for your feedback!