Answer
Patients with inferior glenohumeral dislocations present with the affected arm "locked" in abduction of varying degrees. [10] Classically, the affected arm is hyperabducted, with the elbow flexed and the forearm resting on top of or behind the head (see the image below). Often, the dislocated humeral head is palpable along the lateral border of the chest wall. The patient is generally in a substantial amount of pain, particularly when attempts are made to move the injured extremity.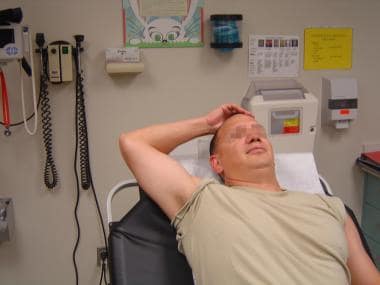 Classic presentation of inferior shoulder dislocation. Affected arm is hyperabducted, with elbow flexed and forearm resting on top of head.
---
Did this answer your question?
Additional feedback? (Optional)
Thank you for your feedback!