Answer
The proximal nailfold becomes chronically erythematous and swollen, with loss of the cuticle, nail dystrophy, and onycholysis (see the image below). This can usually be distinguished clinically from acute paronychia, which is caused by Staphylococcus aureus and presents with proximal abscess formation. This can be secondary to bacterial infection with Pseudomonas, which displays a green discoloration under the nail. A potassium hydroxide (KOH) preparation is helpful and is likely to show yeast organisms.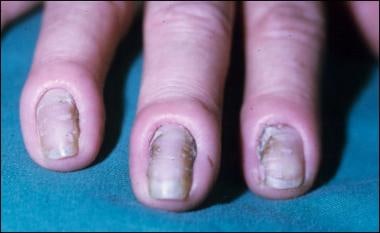 Chronic paronychia. Edema and erythema of the nailfolds with loss of the cuticle; note greenish discoloration of nails from likely pseudomonal coinfection. Courtesy of Kenneth Greer, MD.
---
Did this answer your question?
Additional feedback? (Optional)
Thank you for your feedback!