Answer
In the infant, lesions become visible as pearly white patches on the mucosal surfaces. Buccal epithelium, gums, and the palate commonly are involved with extension to the tongue, pharynx, or esophagus in more severe cases. If the lesions are scraped away, an erythematous base is exposed. Lesions may progress to symptomatic erosion and ulceration.
The most common clinical appearance of oropharyngeal candidiasis (pseudomembranous candidiasis or oral thrush) in the adult population is white plaques on the buccal, palatal, or oropharyngeal mucosa overlying areas of mucosal erythema. Typically, the lesions are adherent, which, when removed, may demonstrate areas with tiny ulcerations. Sometimes, oral candidiasis manifests as diffuse erythema. A variant of oral candidiasis, median rheumatoid glossitis, presents as a discrete cherry-red patch on the posterior tongue. In addition, some patients may develop soreness and cracks at the lateral angles of the mouth called angular cheilitis (see image below). Denture stomatitis [17] presents as chronic mucosal erythema typically beneath the site of a denture.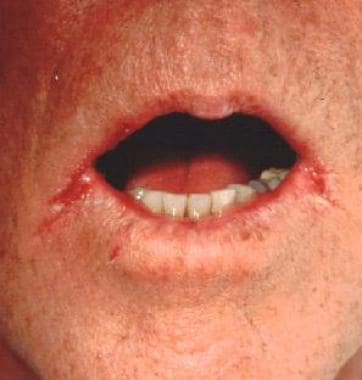 Soreness and cracks at the lateral angles of the mouth (angular cheilitis) is a frequent expression of candidosis in elderly individuals.
---
Did this answer your question?
Additional feedback? (Optional)
Thank you for your feedback!