Answer
Also known as oral thrush, this is considered as a minor problem of little significance that may clear spontaneously. However, without appropriate treatment, this can lead to a chronic condition that can result in discomfort and anorexia. Rarely, oropharyngeal infection leads to systemic candidiasis.
Oropharyngeal candidiasis in the neonate, commonly called oral thrush, is often acquired from the infected maternal mucosa during passage of the infant through the birth canal. Oropharyngeal candidiasis is 35 times more common in neonates of infected mothers compared with uninfected mothers and is the most common type of clinical presentation in infants and children. Immaturity of host defenses and incomplete establishment of the normal orointestinal flora are likely reasons why C albicans often acts as a pathogen in the neonate.
Use of broad-spectrum antibiotics and inhaled corticosteroids, diminished cell-mediated immunity, diabetes mellitus, dentures, and xerostomia are all risk factors for oral candidiasis in adults.
See the image below.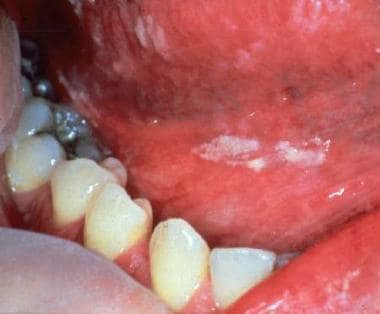 White plaques are present on the buccal mucosa and the undersurface of the tongue and represent thrush. When wiped off, the plaques leave red erosive areas.
Xerostomia may result from aging, medication, or conditions like Sjögren syndrome. A decrease in salivary production decreases both the amount of available mucosal secretory antibody (IgA) and the natural cleansing action provided by saliva.
The development of oral thrush in the absence of a known etiology should raise the clinician's index of suspicion for an underlying cause of immunosuppression, such as malignancy or AIDS. [43]
With denture stomatitis, the areas of erythema may be painful and may affect up to 65% of patients who wear dentures, especially those who wear full sets. Despite popular belief, denture stomatitis is not associated with smoking. [44]
---
Did this answer your question?
Additional feedback? (Optional)
Thank you for your feedback!