Answer
Congenital candidiasis [40, 41] is rare, with 70 cases reported during the 1990s. It may be acquired by the infant in utero or during delivery. Presumably, congenital candidiasis is an ascending intrauterine infection with cutaneous or systemic manifestations generally within 12 hours after birth (see image below). Although the systemic form typically is fatal, congenital cutaneous infections usually have a more benign course unless untreated. Prematurity and the presence of an intrauterine foreign body (intrauterine device) are associated with this condition. Some infants have respiratory distress and pneumonia secondary to in utero aspiration of infected amniotic fluid.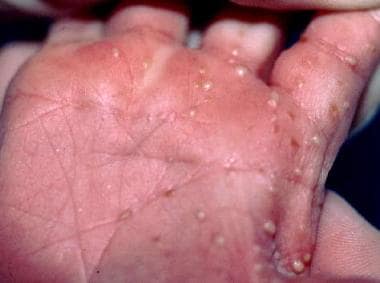 Discrete superficial pustules developed within hours of birth on the hand of an otherwise healthy newborn. A potassium hydroxide preparation revealed spores and pseudomycelium, and culture demonstrated the presence of Candida albicans.
---
Did this answer your question?
Additional feedback? (Optional)
Thank you for your feedback!