Answer
This common condition in women presents with itching, soreness, and a thick creamy white discharge (see the images below). Although most candidal infections occur more frequently with advancing age, vulvovaginitis is unusual in older women. It is most prevalent in women aged 25-34 years, and, based on survey data, globally nearly 75% of women experience vulvovaginitis at least once. [36] In the absence of estrogen stimulation, the vaginal mucosa becomes thin and atrophic, producing less glycogen. Candidal colonization of vaginal mucosa is estrogen dependent and subsequently decreases sharply after menopause.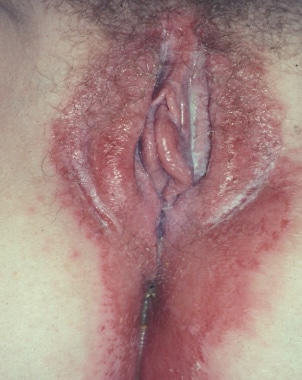 Vaginal candidiasis. Erythema, edema, and cheesy white discharge. Courtesy of Kenneth Greer, MD.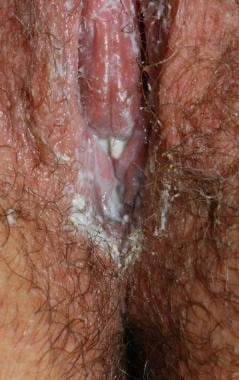 Vulvar candidiasis. Bright erythema with scaling, fissuring, and satellite papules. Courtesy of Kenneth Greer, MD.
In contrast, the likelihood of colonization increases during pregnancy (25-33%). The widespread use of hormone replacement for reduction of osteoporosis and heart disease may cause an increasing trend in candidal vulvovaginitis among older women. Cutaneous hypersensitivity to C albicans has been reported in persons with idiopathic vulvodynia. [37]
---
Did this answer your question?
Additional feedback? (Optional)
Thank you for your feedback!