Answer
Answer
Several plant families possess chemicals that irritate human skin. One of the most common chemical irritants is calcium oxalate. Calcium oxalate can enhance the irritancy of other chemicals. Calcium oxalate–induced microabrasions commonly occur on the hands of pineapple workers. As a result, bromelin, a proteolytic enzyme found in pineapples, gains entry into the skin. This additive effect results in severe fissures, fingerprint loss, and microhemorrhages on the hands.
Dieffenbachia bauseii (Araceae), shown below and also known as dumb cane, is an extremely popular decorative plant that releases calcium oxalate after coming in contact with a moist surface. Ensuing symptoms can include salivation, burning, mucosal edema, blistering, and hoarseness.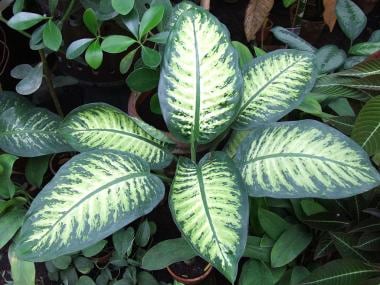 Dieffenbachia bauseii (Araceae), also known as dumb cane.
Daffodil itch is probably the most common dermatitis in florists. This condition results from contact with calcium oxalate (see below). Xerosis, scales, fissures, and erythema primarily involve the fingertips, the hands, and the forearms.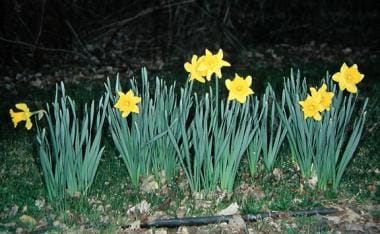 Daffodils, Narcissus pseudonarcissus, are also known as Lent lilies because they bloom in late March and early April in much of the United States.
Poinsettia (Euphorbia pulcherrima) and spurges (family Euphorbiaceae) contain latex with irritant phorbol, diterpenes, and/or daphnane esters. Symptoms can include pain and blistering. Contact with the esters may result in temporary blindness.
Capsaicin in roasted chili peppers (Capsicum annum) can cause chili burns or Hunan hand syndrome after prolonged contact (see below). Capsaicin depolarizes nerve endings, causing vasodilation, smooth muscle stimulation, glandular secretion, and sensory nerve activation.
Chili peppers, Capsicum annum.
Severe irritant dermatitis, with erythema, papulovesicles, pustules, and even leukocytoclastic vasculitis, can result from contact with the century plant (Agave americana). The irritant is thought to be caused by latex-derived calcium oxalate and saponins. [19]
---
Did this answer your question?
Additional feedback? (Optional)
Thank you for your feedback!