Answer
Answer
Large spines and thorns can cause penetrating trauma, and the wounds can become secondarily infected. Smaller glochids (tufts of short, barbed hairs) embed in the skin like fishhooks. Although cacti possess larger spines, smaller glochids induce more troubling dermatologic manifestations.
Penetrating injuries can introduce pathogenic microorganisms into the wound. Examples include Clostridium tetani and Staphylococcus aureus (from spines and thorns), Sporothrix schenckii (from rose thorns, grasses, and sphagnum moss), Mycobacterium kansasii (from blackberries), Mycobacterium marinum (from cactus spines), and Mycobacterium ulcerans (from spiky tropical vegetation).
Glochids from prickly pears (Opuntia species) (see image below) can cause an extremely pruritic, papular eruption called sabra dermatitis, which can easily be confused with scabies or fiberglass dermatitis.
Various glochid removal techniques are described, including the use of warm wax, glue, sticking plaster, facial masks, and cellophane tape.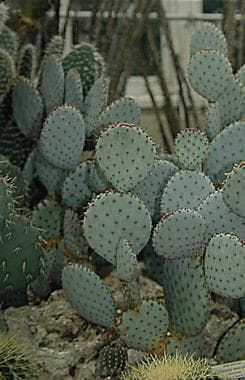 Prickly pears, Opuntia species.
---
Did this answer your question?
Additional feedback? (Optional)
Thank you for your feedback!