Answer
Answer
Plants in the Urticaceae family cause most cases of plant-induced contact urticaria. In the United States, the most commonly involved plant is the stinging nettle (Urtica dioica) (see image below).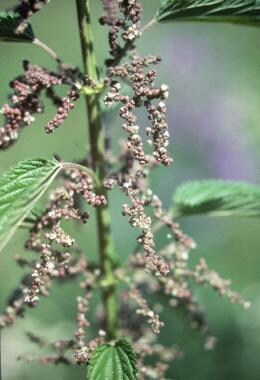 Urtica dioica, the common stinging nettle.
Causative plants possess trichomes, or sharp hairs, on their leaves and stems. Hypodermic needle–like hollows are dislodged when the plant is rubbed. These hollows release the irritant chemicals, which include acetylcholine, histamine, and 5-hydroxytryptamine.
Urticarial lesions achieve maximal size within 5 minutes of contact. Pruritus, erythema, and burning may last for 2 hours. Persistent paresthesias may last for more than 12 hours. Most reactions are self-limited and require no treatment.
---
Did this answer your question?
Additional feedback? (Optional)
Thank you for your feedback!